Highrise Childcare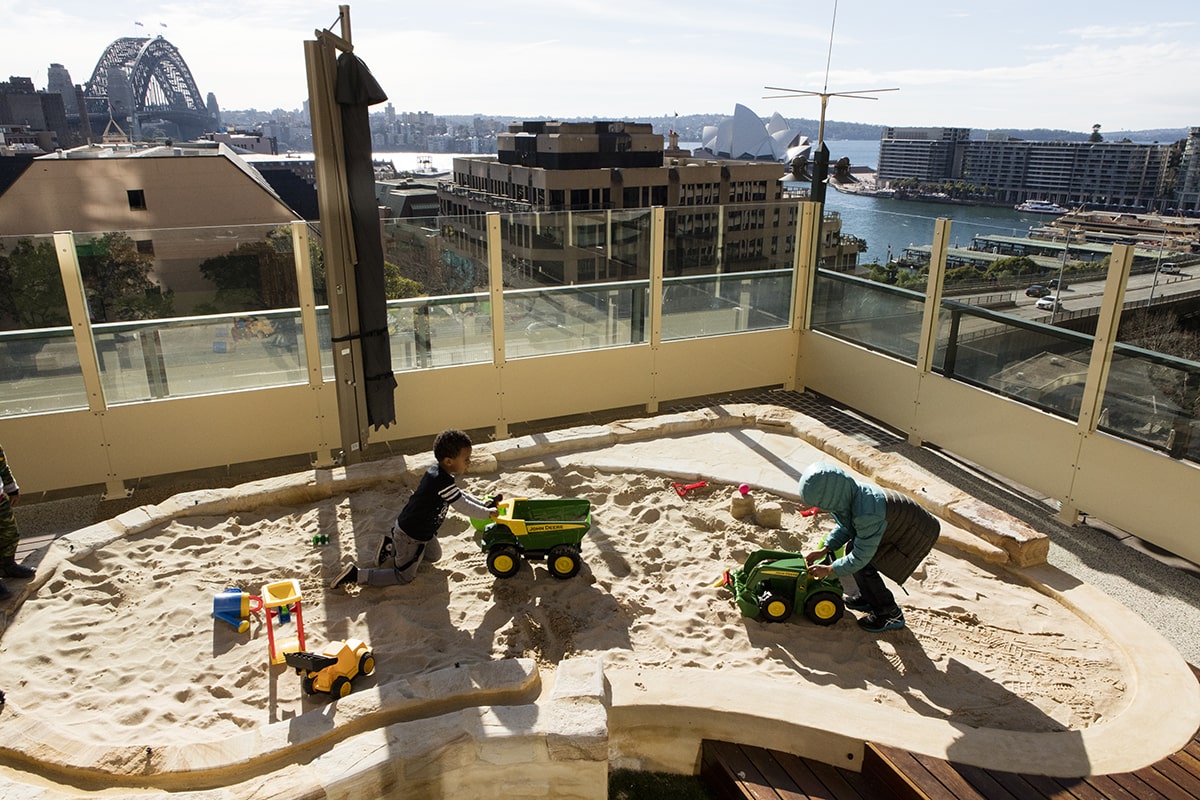 Little Kingdom Childcare, a 96 child childcare centre on the 4th floor of the Quay West Building in The Rocks, Sydney. Overlooking Circular Quay and Sydney Harbour.
THE BRIEF
Maximising child numbers whilst providing the highest quality in childcare provision was central to the brief. Childcare in highly urbanised environments can suffer from inadequate natural light and outdoor space. This project uses simulated outdoor space where some of the indoor spaces is treated as outdoor space. This is achieved by bringing the external materials into the internal space, removing the ceilings and changing the lighting temperature. This provides the advantage of protected outdoor space which can be used during inclement weather.
DESIGN APPROACH
All internal walls were removed and the playrooms laid out along the perimeter of the floor plates to maximise natural light by taking advantage of the floor to ceiling perimeter glazing. This also enables movement around the the perimeter of the childcare through the play-spaces enabling flexibility between the spaces. All auxiliary spaces were kept to the centre of the floor where natural light was least available.
INTERESTING FACT
When this was constructed the project was the highest childcare above the street in Australia. As such it required an innovative fire evacuation procedure which was developed in collaboration with ARUP and was demonstrated through live test evacuations prior to the planning application being submitted.
TESTIMONIAL
The Kaunitz Yeung team is our trusted partner in achieving desired architectural outcomes. David Kaunitz worked seamlessly to effectively deliver a challenging project. David possesses great architectural capability blended with commercial acumen. I highly recommend Kaunitz Yeung as a long-term project partner." George Pajmakoski, Little Kingdom Childcare Owner
LOCATION:
The Rocks NSW
CLIENT:
Little Kingdom Childcare
CREDITS:
Structural Engineer: Bruce Hutchison, Chapman Hutchison Engineers, Fire Engineering: ARUP, Landscape: Tessa Rose Landscape Design, Building Services Engineers: Lucid Consulting Engineers, Contractor: Cadwell Constructions, Photographer: Brett Boardman