Village Toilets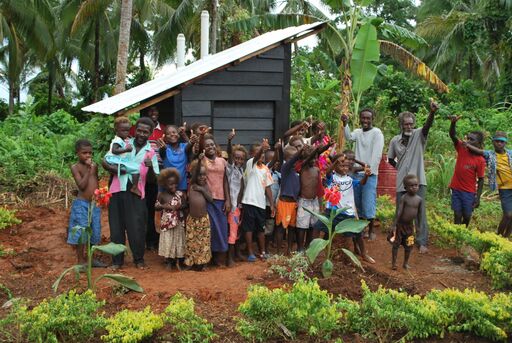 Running from 2009-2013 this project saw 109 latrines constructed by the communities of Keigold, Samballa, Buri and Obobollu. Each community requested the project and identified the number of latrines required. Latrines were built to service family house clusters with each family constructing their latrine.
The project was initiated in by Herrick Ragosso requested assistance in building community latrines in response to significant health issues following the relocation of most of the Mondo Village to the new village of Keigold. The new village is located in the interior of Ranongga making the previous practice of defecation in the sea impracticable.
THE BRIEF
A sustainable solution was required in one of the remotest places on earth. A solution that was easy to build, mostly of local materials and without water as water supply is an issue. Controlling floes was also important. It was also important that the toilets had a "çool" factor and good community buy in so they are used.
THE DESIGN APPROACH
A design was developed based on the experience of water and sanitation engineers in the Solomon Islands including Peter Wolpereis. The Ventilated Improved Pit Latrine (VIP Latrine) was chosen as the most appropriate design because:
Simple construction for the remote location.
Avoids the issue with pour flush latrines where the bend becomes blocked.
Strong breeze and elevation facilitates venting process.
Most materials could be locally sourced.
All drinking water is sourced at higher altitude than the village meaning a pit latrine would not contaminate drinking water.
Avoid the need for water for flushing.
Helps control flies which become trapped in the vents.
INTERESTING FACT
We have continued to monitor these toilets. A decade later 80% are still being used.
LOCATION:
Ranongga Island, Solomon Islands
CLIENT:
Ranongga.org , Communities of Ranongga
CREDITS:
Donor: Partner Housing Australasia, Construction: Ranongga.org