TRANSCRIBING ART TO ART SCREENS
July 16, 2018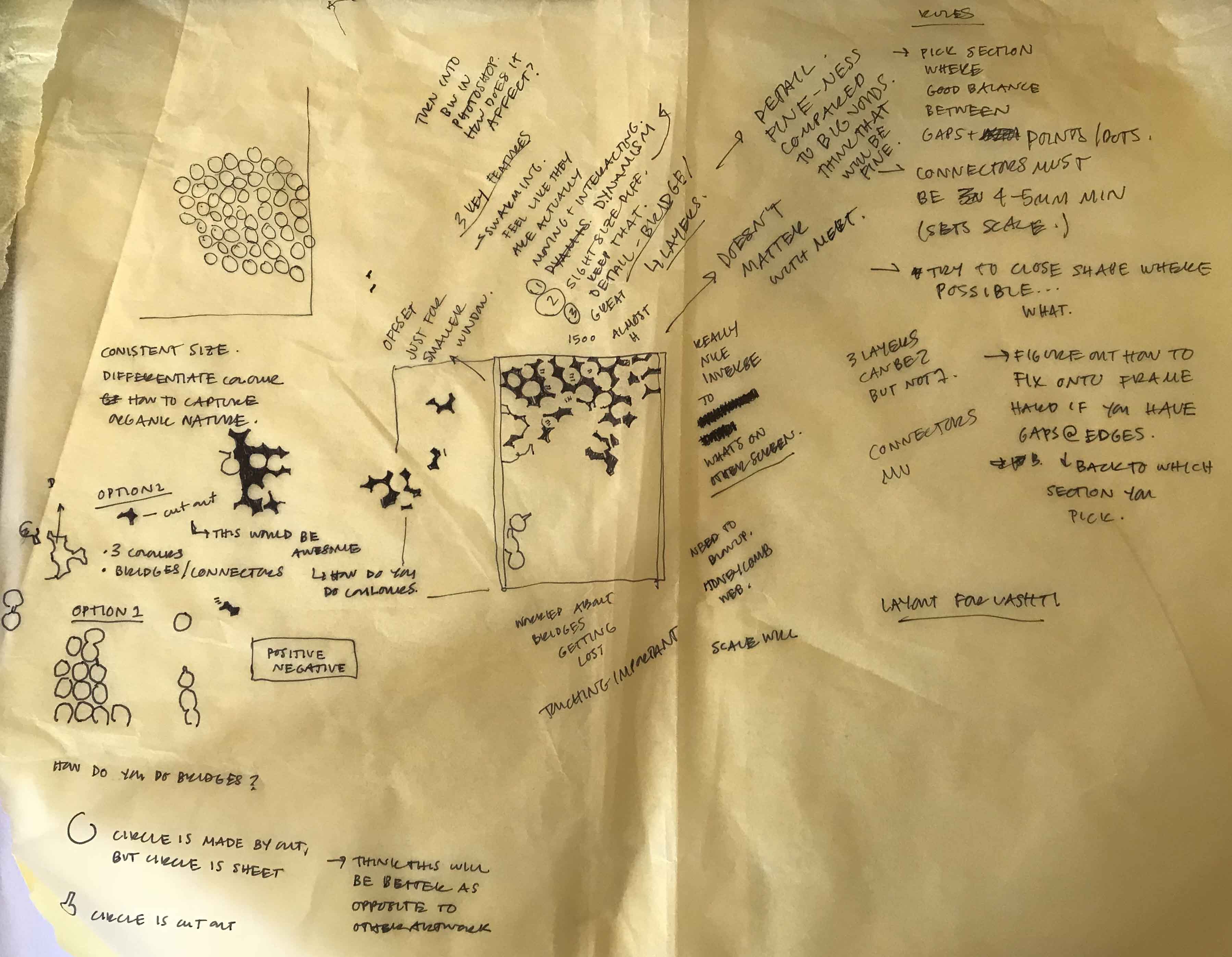 Through our experience we have developed our process of transcribing Aboriginal Art, imbued with culture and country, into art screens that are respectful and beautiful. This is not a simple process of copying. The screens must be laser cut so they remain a single structurally sound piece. They must also be legible from close up and a distance. It requires careful editing and curating of the elements without losing the inherent cultural meaning.
Process for Art Screens
Artwork Selection
The process begins with the selection of the artwork. The community is given a selection of artwork, all done by members or relatives of the community. From there, depending on the building one or two pieces are chosen by the community.
For the PAMs clinics the artwork selection was as follows:
Parnngurr – Tali North of Punmu (Wokka Taylor) & All the Honey Ants (Sonia Williams)
Punmu – Untitled, Cat# 15-135 (Minyaweww Miller) & Pitu, Kulilu (Jakayu Biljabu)
Studying & Analysing the artwork
The chosen pieces of artwork are studied and analysed. This analysis is multi-faceted, looking at the intention of the artist in what they were portraying, the overall technical aspects of the piece, such as light/dark, movement within the artwork, and key components or features. The pieces are roughly assigned to a location and size pertaining to the building at this point.
Translation
From the analysis, the translation begins. The shift of medium means that the artwork cannot be directly imprinted or copied into a screen, but rather has to be translated. The main issue during translation is scale. How do you scale the artwork to suit the scale of the building, whilst maintaining the essence of the painting. A portion of the painting may be selected as the crucial piece or a rotation of the painting keeps the proportions as originally intended. As the paintings tend to be colourful, the change to black and white (positive/negative space) is carefully considered.  How do you maintain the depth the painting originally captured in a flat cut out screen. In addition, there are certain restrictions in the technical aspect of laser cutting the metal screens. For instance, the cut outs have a minimum and maximum size due to practicalities of cutting metal and installing a security screen. All of these layers of information go into the final creation of the art screens.
Into CAD
The sketches begin to get drawn up into CAD which then presents itself with new perspectives, such as the detailed relationships between different symbols, markings, and objects. The artwork gets laid onto the exact building part (walls, doors) for final adjustments, and smoothing out of the graphics commence. Finally detailed decisions about where to place the fixing or where graphics get cut to create borders occur.
Laser Cutters
The artwork gets put into a drawing format that the laser cutters can use and are sent to the laser cutters for a final review.