Biripi Clinic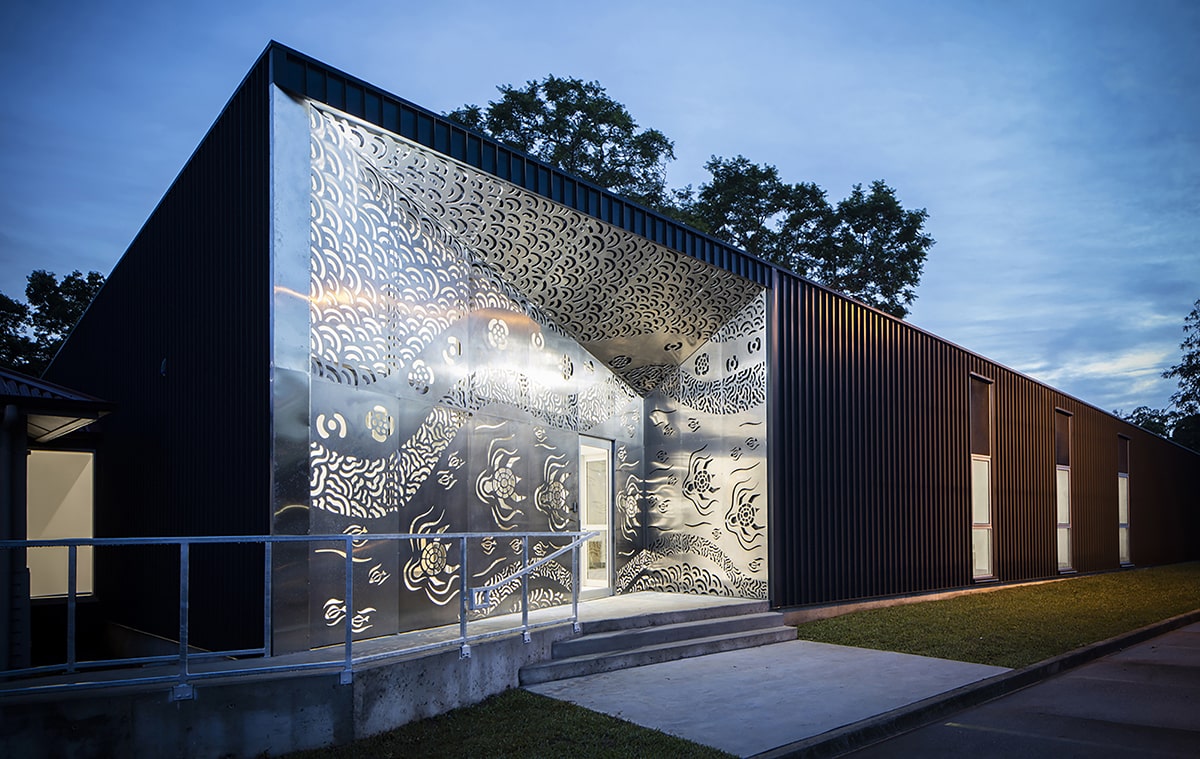 The award-winning, Biripi Aboriginal Corporation Medical Centre's Purfleet Clinic places wellbeing at the centre of the community and acknowledges the history of the site while pointing towards a more positive future. Built on the site of the former Purfleet Mission, which was created by the government in 1901 for the 'protection and segregation' of local aboriginal people, the Mission is now under aboriginal ownership and is an important accomplishment of self-determination.
The project unified the existing health buildings to create a community hub that wraps around a central courtyard and jacaranda tree, a significant meeting place for the Biripi people. The artwork featured in the entrance screen embodies the saltwater/freshwater tidal zone and at night becomes a beacon of light within the community.
THE BRIEF
The project brief called for a new main entrance and waiting area for the existing buildings, as well as new clinical and training space. The original clinic from the 1970s, built as a result of advocacy by the Purfleet Advancement League, was also to be incorporated in acknowledgement of the community's journey of self-determination. It is now a gallery and museum space off the main waiting room with a focus on the history of health delivery in the community.
THE DESIGN APPROACH
The design approach was defined by thorough consultation that incorporated the community, aboriginal health workers, clinicians and health administrators. This
consultation clearly identified the social, economic and environmental factors that were required. The response to these factors is explicitly evident in the design. The social and environmental factors identified were quality of space, connection to the external environment, natural ventilation, history of the site and the culture of the community.
The project is intrinsically a purposeful intervention from its careful siting to unify and order the existing health campus to its flexible spaces. Unifying the existing health buildings enables their progressive renovation, eliminating the need for costly new infrastructure. The spaces themselves are large and flexible, designed to support evolving community and health uses.
INTERESTING FACT
The jacaranda tree in the outdoor waiting area was planted when the original clinic was built. It has been used as a place of ceremony and as a birthing tree under which many elders were born.
TESTIMONIAL
As a repeat client for over a decade it has been a privilege to see Kaunitz Yeung Architecture grow into an industry leader in health, education and cultural projects. At the heart of this is their uncompromising and unwavering focus on designing for the people that we serve. In doing so they have fused innovative, best practice architecture with respect of people, place and culture. This results in buildings which people feel integrally connected to and love to use. Given the opportunity, I would choose to work in partnership with community and Kaunitz Yeung Architecture again.
Kaunitz Yeung Architecture's innovative and inclusive approach to architecture is evident from the multiple European Health Care Design Congress awards they have received. These prestigious international awards, which are evaluated by an interdisciplinary team of world leading clinicians, health administrators and designers, demonstrates how their work is at the forefront of innovation in healthcare design around the world. This was reinforced by David's inspiring and passionate talk at the 2018 Congress. Brett Cowling, Former CEO Biripi AMS
LOCATION:
Purfleet NSW
CLIENT:
Biripi Aboriginal Medical Service
AWARDS:
2018 NSW Institute of Architects Award: Winner Award for Commercial Architecture
2018 NSW Institute of Architects Award: Winner Premier's Prize
2018 NSW Institute of Architects Award: Winner Colorbond Award for Steel Architecture,
2018 World Architecture News (WAN) Awards: Finalist Healthcare Award
2017 European Healthcare Design Awards: Healthcare Design (Under 25,000sqft)
2017 European Healthcare Design Awards: Design for Infill or Conversion
CREDITS:
Client: Brett Cowling, CEO Biripi Aboriginal Medical Service, Art Screen Design Consultant: Vashti Gonda, Di Emme Creative Solutions, Biripi Community Artists: Eden Davis, Structural Engineer: Bruce Hutchison, Chapman Hutchison Engineers, Building Services Engineers: Lucid Consulting Engineers, Civil: Hany Ibrahim - Costplan Group, Compliance: Jim Boyce - Boyce Built Environment Consulting, Photographer: Brett Boardman, Contractors: Murray River North