Cellar Door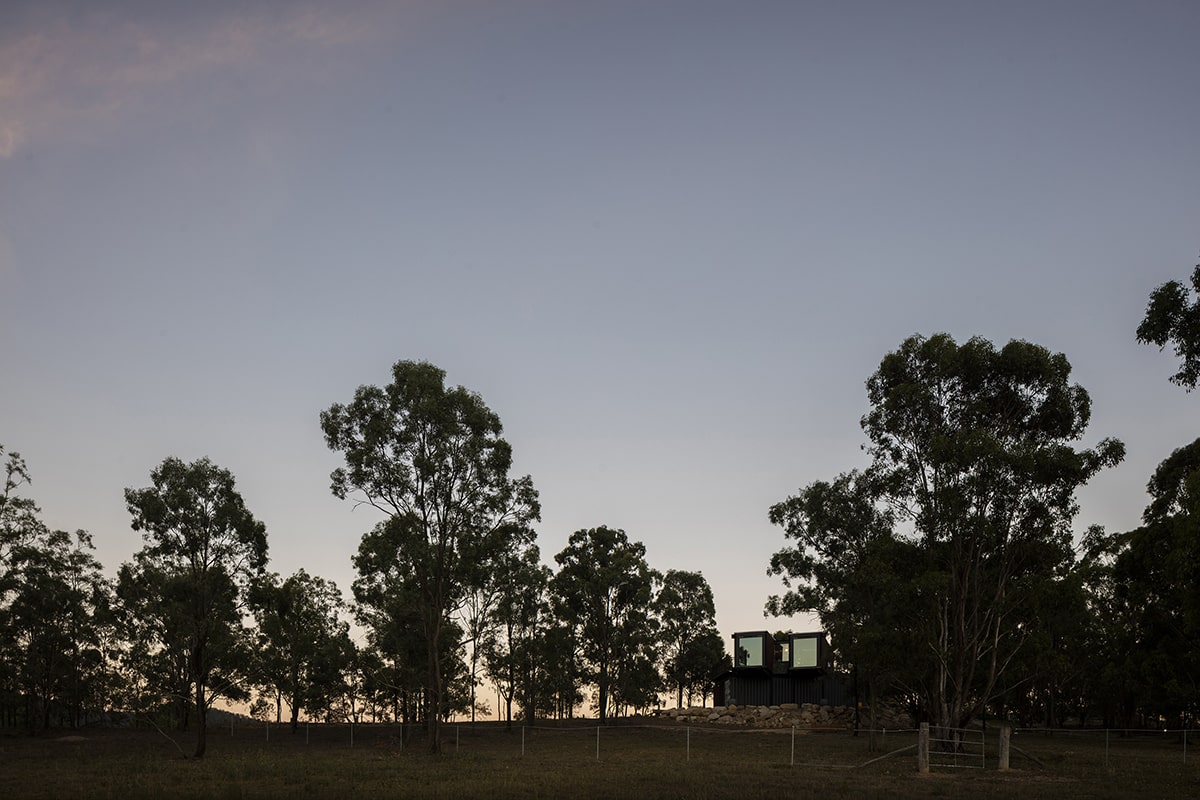 The cellar door for Running Horse Wines in Broke, New South Wales, is a playful intervention, set within the landscape and integrated with the vineyard, providing visitors with an uplifting, intimate and contextualised experience. Through the use of shipping containers, the building reinterprets the language of industrial farm architecture.
THE BRIEF
The brief called for an intimate wine tasting space that could be run by one person and provided a variety of internal and external spaces for people to lounge and linger. The plan is centred around the wine tasting bench, with the ends of each container forming more intimate spaces. The offset between the two levels of containers forms external decked areas. The lower level provides storage and administration areas.
DESIGN APPROACH
This project is a small, sensitive and almost temporary intervention into the landscape. The architectural expression of the shipping containers and steel structure reinforces this. Nestled in an existing stand of native trees, it required no trees to be removed and minimal contouring of the ground. The building is barely visible from the surrounding landscape, except for the reflection of the landscape in its large windows. Even the signage feels like a
piece of rural equipment and not out of place.
Highly insulated shipping containers and glass combine with the modest proportions to minimise energy use. The raw internal finish and minimal site works using stone from the vineyard minimised embodied energy. By making a modest, sensitive and easily removable intervention into the landscape, the sustainability of the landscape and vineyard has been maintained.
INTERESTING FACT
Minimal site works and the use of shipping containers were key to maintaining the simplicity and cost value of this project. These elements harnessed local skills commonly used in the surrounding mines and rural properties. Once these elements were in place the project became a simple fit out by local trades in their downtime from other projects.
TESTIMONIAL
After building this vineyard from scratch I required an intimate, uplifting space to provide a boutique experience. It is unusual that the winemaker leads the cellar door, and this meant that the building needed to reflect my values and unvarnished approach to wine making. This little building nestled in the landscape has resoundingly achieved this. The proof is in the large number of happy return customers who just love the space and the experience it affords. David Fromberg, Running Horse Wines Winemaker and Owner
LOCATION:
Broke NSW
CLIENT:
Running Horse Wines